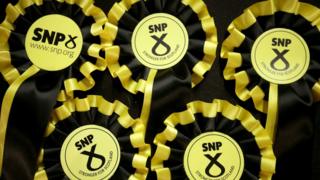 An SNP committee member who was due to investigate a candidate suspended over anti-Semitic language has resigned after she was also accused of anti-Semitism.
Denise Findlay was on the conduct committee expected to investigate Neale Hanvey, who was dropped as Kirkcaldy and Cowdenbeath SNP candidate.
Channel Four News reported she had tweeted calling Israel a "Nazi state".
Ms Findlay later confirmed said she had resigned from the SNP.
She tweeted: "I've had to resign from the SNP. There are tweets where I'm arguing that Israel=Nazi should not be part of the definition of anti-Semitism. They were given to C4."
'At odds with party ethos'
An SNP spokesman said: "There is no place for anti-Semitism in…