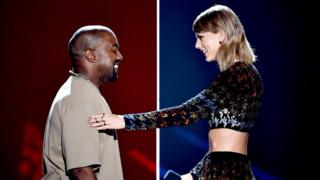 Music's most notorious on-off feud – Taylor Swift versus Kanye West – has officially turned political.
Swift, who has long resisted going public on her politics, came out in favour of two democratic candidates in her home state of Tennessee in the upcoming mid-term elections on Sunday.
West meanwhile is a well-known and outspoken supporter of President Donald Trump, and will meet the Republican in the White House this week for lunch.
Their involvement has sparked a debate across the US political spectrum about celebrities and political endorsements.
It's all a bit surreal… so let's re-cap on the drama so far.
2009: The feud…